Jennette Nall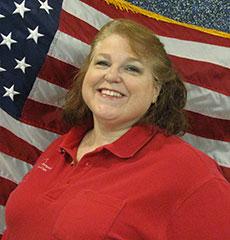 IROCC
Administrative Manager



---
Mrs. Jennette Nall began working for IROCC on September 22, 2008. She is a transplant to Central Illinois. Having grown up in Central California, she moved here when she was 18 years old. Mrs. Nall graduated from Sangamon State University with a Bachelor's Degree in Communications and has worked in some field related to communications ever since.
Prior to coming to IROCC, Jennette worked for Kerasotes Theaters in Springfield for over 10 years, both in the office, and as a Theater Manager. She was married to Craig Nall in March 2010, and gave birth to their daughter later in that same year. Jennette also has a teenage son who is a "handsome dude", and is smart, funny, and very articulate. She also has a beautiful step-daughter, Kylie. Jennette enjoys spending time with family and friends and anything that has to do with theater.
In her spare time she enjoys reading, attending live theater events, learning new things, and exploring the world through the eyes of her children. She also enjoys singing, dancing, and acting, and is looking forward to getting back into those things once her children get a little bit older. She is thrilled to be part of the IROCC family and is looking forward to the continued growth of the program under the guidance of the great team here at MTU #10.
Jennette always has a smile for everyone and fits right in with her creativity, dedication, and bubbly personality.